#636RSLP 85 deg HD Low Profile Pneumatic Main Retracts Robostrut Ready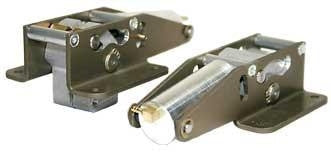 $ 288.01
Product Number: 636RSLP
This gear is a special order product.  Please contact us by Email or at 630-584-7616 for pricing and availability.
85 degree Heavy Duty Low Profile Pneumatic Main Retracts RoboStrut Ready Mechanisms Only (pair)
These 635 series heavy duty low profile custom pneumatic retracts are designed for specific R/C aircraft weighing up to 32 lbs.. These retracts are constructed the same as the standard 630 series retracts with heat treated aluminum alloy frames and trunions, these gear will accommodate a 1/2" diameter or a custom made 5/8" diameter 4130 chrome moly steel tubular RoboStruts. They offer long dependable service for large aircraft flying off grass or paved runways. Powered by a 5/8" bore triple sealed Robart air cylinder, all of these units feature positive up and down locks. 
(Robart Air Control Kit Required to operate   Sold Separately)