#311B 1/8" Hinge Bulk 100 Pcs.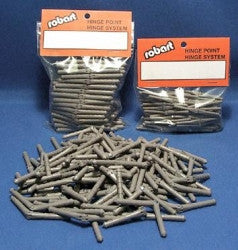 $ 52.84
Product Number: 311B
1/8" Steel Hinge Point Bulk
Includes Qty: 100 1/8" Steel Hinge Points.
Hinge Point Hinges are truly unique. Instead of trying to chisel a slot, as with ordinary hinges, simply drill a hole, add some glue and insert the hinge point. Simple, perfectly straight hinging can be done quickly. The hinges are available in three sizes 3/32", 1/8" & 3/16".
These hinges have been converted to black instead of gray.  The image will be updated shortly.
For .25 to .90 Size Models