#210HSG2 - Holy Smokes Gen2 Smoke System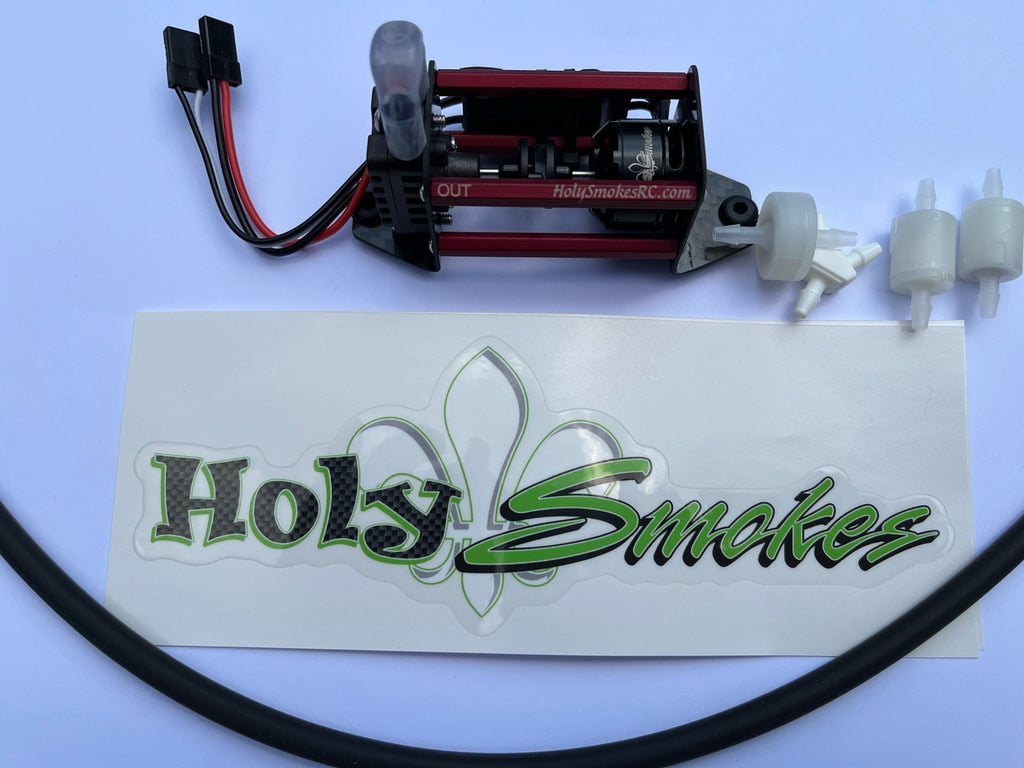 $ 229.00
Product Number: 210HSG2
Constructed of prepreg carbon fiber composite, aluminum & fiber filled plastic, the pump is the lightest available at only 2.22oz/62.93g.

It provides a variable & programmable flow rate ensuring maximum smoke fluid vaporization. This system has extensive field-testing with years of modeling experience behind it.
The new "glue-less" assembly has improved the design rigidity with only a minor compromise in weight (+.28oz/7.9g) due to the substitution of anodized aluminum hex standoffs vs nylon. 
SPECIFICATIONS
Prepreg Carbon Fiber Construction
OEM spec. 800KV Brushless Motor; 15A ESC,
Input Voltage

 

– 

2S-3S Lithium Polymer, 12.6v max Current draw 300-600mAh

Length- 3.5 inches
Diameter- 1.75 inches
Weight- 2.22 ounces/62.93 grams
Separate Power & Signal Leads - 2.4 GHz receiver power requires no auxiliary battery
Adjustable Flow Rate - Throttle to Smoke Mixing
INCLUDES
Holy Smokes Gen2 Smoke Pump & 
Plumbing Kit
(1) Tee Fitting
(2) Check valve(s) 
(1) In-line filter w/ stainless steel screen
(1) 12" length of Viton tubing
 CUSTOMER SERVICE:
Please call Holy Smokes RC at 636-399-7764 or email ktseiter@icloud.com.
WEBDISCOUNT:
This product is not eligible for any additional discounts.
CALIFORNIA PURCHASING:
This product is not labeled for sale in California.