Top RC G-4 Super Galeb Scale R/C Jet 69" Blue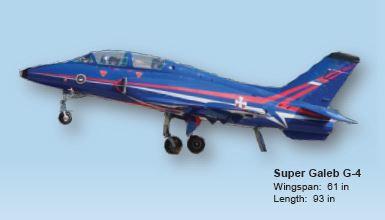 $ 1,745.00
Product Number: TOPRC-GALEB-BLUE
IF YOU ARE INTERESTED IN THIS AIRCRAFT PLEASE GIVE US A CALL AT: 630-584-7616.
Top R/C Models scale G-4 Galeb R/C jet 69"
Paint Scheme
Blue
Accessories
Paint options
Camouflage (scale color)
Blue
Specs
Wingspan 69 in (1751 mm)
Length 93'' (2372 mm)
Weight 25-28 lbs (11-12.8 kg) 
Power 
Turbine 22-26 lbs (10-12 kg)
Shipping:
Contact Robart at 630-584-7616 to get an estimated shipping quote.  Price listed at checkout will not be accurate due to size of the ARF.